Alternative Domain for a Bookmaker
Sometimes a bookmaker can have several websites with the same lines. We allow replacing the domain that is scanned by us, with an alternative mirror site. Then, upon clicking on the odds link, you will be redirected to the necessary website.
To specify a new domain, go to the filter panel of the Surebets/Middles/Valuebets page and click on Bookmakers. A list of basic bookmakers will open. First of all, let us check if your mirror site is already scanned by us. Click on the "Show all bookmakers" button and browse the full list. If the required site is missing, click on the black triangle near the reference site and then on Bookmaker settings in the pop-up menu.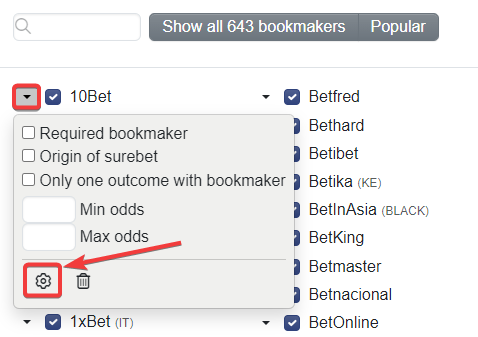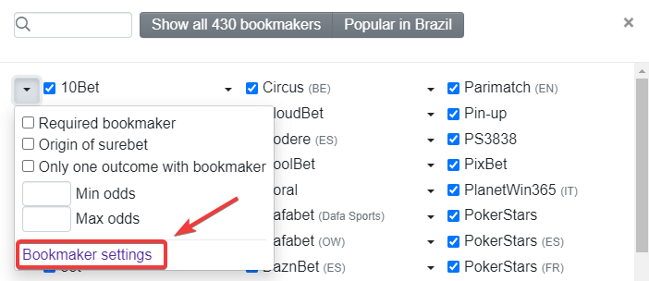 There will appear a settings page with a number of options for a bookmaker. Enter the required mirror domain into the Alternative site domain field.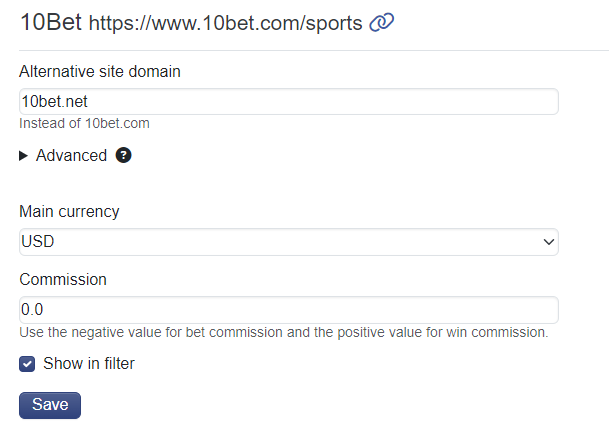 The new domain can be a full domain (for example, https://www.10bet.net), or it can miss the initial part (e.g. 10bet.net). For some bookmakers we specify a longer path (for example /sports/) or language (for example /en/). You should only enter the main domain itself (for example https://www.10bet.net or 10bet.net instead of 10bet.net/sports).
If you enter an invalid value and attempt to save the changes, the red error message will appear below the field. Pay attention to the warning and correct the entry.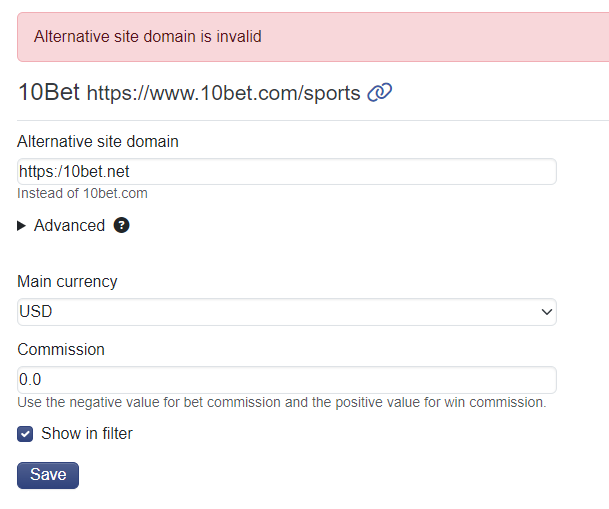 Examples:
| Source domain | Desired domain | "Alternative site domain" field value |
| --- | --- | --- |
| https://www.10bet.com/sports/ | https://www.10bet.net/sports/ | 10bet.net |
| https://www.10bet.com/sports/ | https://www.10bet.br/apuestas/ | Contact our support team to add a mirror |
| https://www.10bet.com/sports/ | https://10bet.com/sports/ | https://10bet.com/sports/ |
| https://www.10bet.com/sports/ | https://www.10bet.net/sports/ | https://www.10bet.net |
| https://www.10bet.com/sports/ | https://www.bet.10bet.net/sports/ | bet.10bet.net |
| https://www.10bet.com/sports/ | https://www.bet.10bet.net/en/sports/ | bet.10bet.net/en/ |
| https://www.10bet.com/sports/ | https://www.10bet.net/live/sports/ | 10bet.net/live |
| https://www.10bet.com/sports/ | https://www.10bet.net/sports/live/ | Contact our support team to add a mirror |
| https://www.10bet.com/sports/ | https://www.10bet.net/en/live/sports/ | 10bet.net/en/live |
| https://www.10bet.com | https://www.10bet.net | 10bet.net |
| https://www.10bet.com | https://10bet.net | https://10bet.net |
| https://www.10bet.com | https://www.10bet.net/en/ | 10bet.net/en/ |
| https://www.10bet.com | https://www.10bet.net/en/prematch/ | 10bet.net/en/prematch/ |
| https://www.10bet.com | https://www.bet.10bet.net | bet.10bet.net |
| https://www.10bet.com | https://www.bet.10bet.net/live/ | bet.10bet.net/live/ |
| https://www.bet.10bet.com | https://www.bet.10bet.net | bet.10bet.net |
| https://www.bet.10bet.com | https://www.bet.10bet.net/live/ | bet.10bet.net/live/ |
| https://www.bet.10bet.com/sports | https://www.bet.10bet.net/live/sports/ | bet.10bet.net/live/ |
| https://www.bet.10bet.com/sports | https://www.bet.10bet.net/sports/live/ | Contact our support team to add a mirror |