Filter Settings
Filter settings have uniform application for surebets, middles and valuebets. The settings icon can be found in the upper right-hand corner of respective pages

.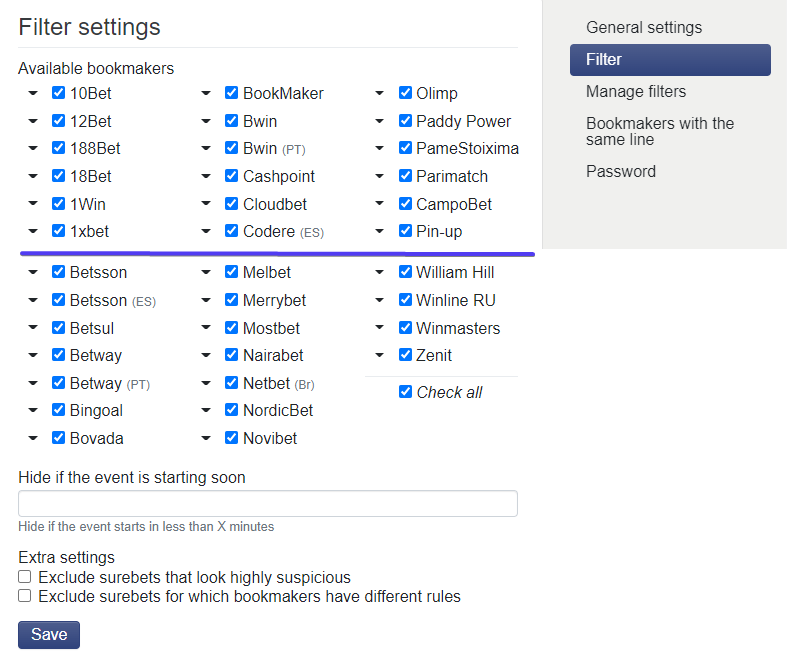 "Available bookmakers" allows specifying the bookmakers to be displayed to you. This saves time browsing through all of them in the Bookmakers list. "Check all" selects and deselects all bookmakers at once.

By clicking an arrow next to the bookmaker name, you will see a number of customisation options.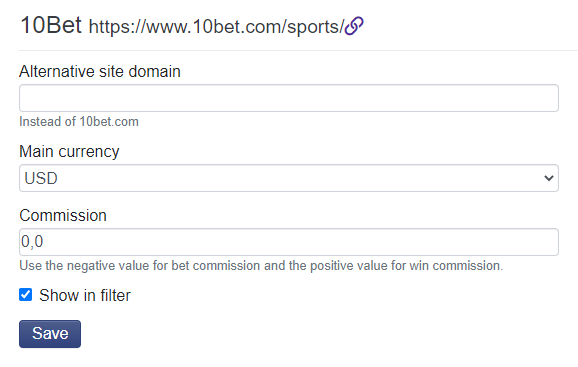 "Alternative site domain" allows redirection to a mirror site, or a clone, for this bookmaker. While its original name will be preserved in all the tables, the specified mirror site will be opened upon clicking on the bookmaker/event/odds link. "Main currency" lets you specify the currency used for this very bookmaker. It will be displayed in the calculator. "Commission" is required for betting exchanges. For example, for Betfair it is set to a maximum of 6.5% by default. It can be set to a smaller number but not less than 2% - Betfair's minimum commission. To specify commission applied to a stake, use a negative number. If it is applied to a win, use a positive number. "Show in filter", when checked, displays the bookmaker in the list of available bookmakers.
"Hide if the event is starting soon" lets you remove the events that are to begin in a specified timeframe. This way you minimize the risk of running out of time to place a bet.
Extra settings are applicable to surebets only. You can either hide surebets that do not look safe or those for which bookmakers have different rules (and the risk of losing is therefore higher).